If you suffer from one of these conditons and want alternative medical treatment, please call Dr. Dushkin to see how he might be able to help you.
212-582-1313
ACNE
ADD/ADHD
ALLERGIES
ANXIETY
ASTHMA
CHRONIC EAR INFECTIONS

DEPRESSION
ECZEMA
FATIGUE
HEADACHES
HYPERTENSION
INSOMNIA

IRRITABLE BOWEL SYNDROME
MENSTRUAL PROBLEMS
MENOPAUSAL PROBLEMS

PANIC ATTACKS
PMS
PSORIASIS
SINUSITIS
STRESS RELATED PROBLEMS
Commonly Treated Conditions – See List Below
Homeopathic and Alternative Medical Treatment New York – From An MD Physician, an alternative doctor with Over 30 Years Experience. Alternative, Holistic and Homeopathic MD in New York City.
1972-1976 at the Upstate Medical Center in Syracuse, began to study the relationship between diet, nutrition, stress and disease.
1976- Graduated medical school at the the Upstate Medical Center
Homeopathic and Alternative Medical Treatment New York is an approach to medical care that addresses the whole person – physically, emotionally, and spiritually.Alternative treatments such as Homeopathic treatment, recognize that you are an individual, and therefore, your treatment must be individualized for you. The goal is to first restore your health, and then to maintain it.
Do you suffer from one of these conditions and want help?
ALLERGIES ASTHMA ANXIETY ACNE CHRONIC EAR INFECTIONS ECZEMA FATIGUE HEADACHES HOT FLASHES PMS MENSTRUAL PROBLEMS IBS SINUSITIS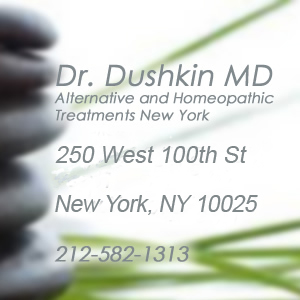 Alternative Treatments New York, Alternative Medicine New York, Homeopathic Doctor in New York City.
250 West 100th Street, New York, NY 10025
© 2006-2020 DrDushkin.com. All rights reserved.